Mobile POS Based Premium Collection: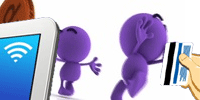 POS based premium collection is an innovative method for insurance companies by which Policy holders can pay premium from different remote locations and total payment related information can be managed centrally.
Semicon Pvt. Ltd. introduces this technology for organizations which has large number of unit/branch offices over the country and facing problems in having all data/information generated from every places to a single or particular place, i.e. central database. Our proposed SIM base Wireless POS works as a mobile phone with superior printing facility which can be considered as an alternative to a PC with Printer, which ultimately saves a huge setup cost. Using this wireless SIM based POS, unit/branch offices can insert premium payment data which directly links to the central database through GPRS. The request data will verify the inserted data in the central database for authentification and reply automatically to POS for further processing. Once the request data is verified successfully and found valid, further processing of premium payment is enabled, and after inserting of premium amount, , database will be updated automatically and send notification to POS which can be printed for physical evidence as well as a confirmation message to policy holder's mobile. The device is simple, light weight, wireless & SIM based, consumes less paper and also handy.