Mobile Insurance: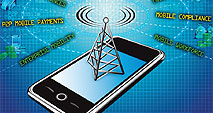 Rapid growth of mobile phone users and socio economic change in the country making people more concious about the lifestyle they lead. Everyone is finding safe & secured life. And thus, even village people are cosidering life insurance is a necessity thinking that will give them a future benefit with a sudden financial help in any crisis moment. We developed mobile phone based premium payment soluton called M-Insurance. It is a payment solution for Life Insurance companies by which any policy holder can pay their premium using their own mobile phone. Doing this, policy holder needs to load mobile wallet balance from any nearest POS (Point of Sale) and pay the premium. Against each successful payment of premium policy holder will get one SMS containg updated policy information and unique transaction ID for future use. There are lots of benefits a life insurance company may enjoy implementing M-Insurance including below:
Policy holder communicates directly with the company which ensures transperency
It decreases steps in premium collection process
Policy information is updated instantly (real time)
Policy holders don't need to run after unit offices
Eliminates risk and time to carry physical money from unit offices, etc.